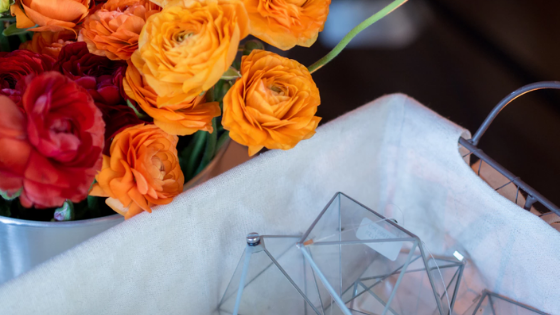 Summer provides an ideal ambiance for romantic dinners for two, and residents of our garden apartments in Sherman Oaks, CA, can choose to dine on patios overlooking our lush, beautifully landscaped grounds. The following are just 3 of the many floral arrangements to choose from!
A Single Rose
One single rose in a bud vase provides just the right finishing touch for an elegant meal. It'll be narrow enough so that you'll still be able to see one another, and it will bring the class and sophistication associated with roses to the table. A sprig of baby's breath adds a final layer of special-occasion polish. This centerpiece pairs best with a gourmet-quality fare.
Three Small Vases Containing Single Blooms
Three small vases grouped together in the center of the table containing the flowers of your choice provide a creative and charming centerpiece that doesn't interfere with visibility. Good choices include tulips, pansies, marigolds, and other cottage garden-style flowers. This arrangement also works well when the vases surround a single tapered candle in a slim, elegant candlestick.
A Short, Wide Vase Brimming With Hydrangeas
Hydrangeas are ideal for placing in short, wide vases because they don't have much of a stem. They're also an old-fashioned favorite that has long been associated with a summer romance. This style of a centerpiece is ideal when the occasion calls for an informal-yet-elegant ambiance, such as when serving picnic-style food and beverages.
Our community features walking trails and thriving courtyard gardens to give you that floral inspiration! Get in touch with us today to find out more about enjoying your life in our community.