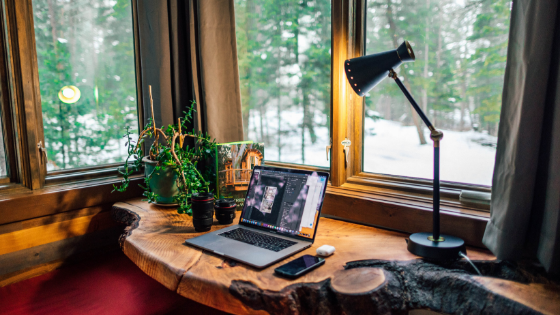 A home office can be a designated place in your apartment to be productive. You can use it to catch up on correspondence, get some extra work done, or even to plan your next vacation. Or your study can be a place where you can go for a quiet atmosphere to read, practice yoga, or just listen to some quiet music. Whatever purpose you want your home office to serve, we'll give you a few ways to organize it.
Be Creative with Space
A home office doesn't have to be a spare bedroom. If all you really need is a small desk and a computer, you can use a corner of your living room or bedroom to set up space. Some people will even turn their walk-in closets into a home office. (Those sharing a home office with another person will likely need some extra square footage though.)
Think Small
Home offices don't necessarily need a lot of equipment to be useful. In fact, a busy home office with lots of gadgets and decorations may even distract people from getting work done. If you're going to spending a lot of time in the office, you need to think about your comfort after a few hours. Your chair should be structured enough to support your lower back so you don't put any undue pressure on it.
Lighting It Up
The surrounding light for a home office should be less than that of a standard home office if you're doing work on the computer. Natural lighting works best in these situations, but this isn't always possible. Look for adjustable dimming lamps that you can put on your desk, so you can protect your eyes. When you use softer light in the room, the room will be more inviting. So the next time you need to get something done, you're more likely to actually use it.
A home office can be a great way to do more in Sherman Oaks, CA apartments. If you're looking for an apartment with more space so you can have the office you really want, call Chase Knolls today to learn more about our availability. We have floor plans that can help you get what you need.