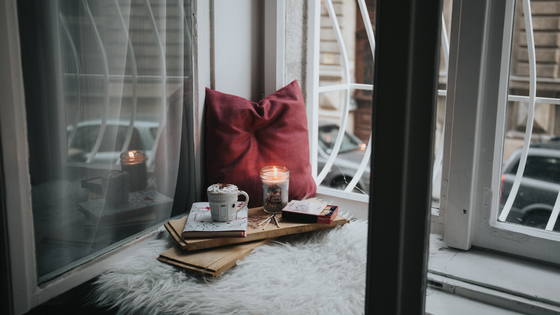 Now that fall weather is here, you may want to spend more time indoors — whether binge-watching your favorite TV series or diving into that detective novel you've been wanting to read. Here are some easy ways to create a cozy environment to help you relax and unwind at home.
Winterize Your Window Curtains
While sheer curtains may be perfect for warm weather, heavier drapes with a thermal lining can provide much-needed insulation from cool air and make your space look tranquil as well. Plush curtains made of velvet fabric lend a touch of glam to your home — and are ideal when you want to indulge in some movie-watching on your day off before the sun goes down.
Add Decor in Fall Colors
Swap out your cotton bedding for flannel sheets in fall colors such as burgundy, deep purple or gold. On chilly evenings, you'll look forward to relaxing in bed, and your sleeping space will exude a comfortable vibe. Does your living room need a seasonal update? Simply add throw pillows in fall colors to lend warmth to your sofa or easy chair. You can also cozy up your dining table by creating a display of candles featuring red and orange hues.
Decorate With Baskets
Wicker baskets are multifunctional and bring a natural look to your decor. Place one alongside your sofa to provide storage for blankets or extra throw pillows, or put one on your kitchen counter to store pens, keys and other everyday necessities. You can also create a gallery wall and display traditional baskets to bring a touch of cozy global style to your home.
Soften Your Floors
Create warmth underfoot by adding a textured rug to your kitchen or living room floor. A sheepskin rug is ideal for adding a comfortable feel to your home. Is the space under your coffee table bare? Your hardwood floors may be gorgeous, but a wool throw rug can be the perfect accessory to warm up the room.
Are you looking for apartments in Sherman Oaks, California, that satisfy your need for luxury living and comfort? Chase Knolls offers beautiful retro-style apartments in a gated community that boasts courtyard gardens, walking paths and many other amenities. Contact us today to learn more and arrange a tour of our apartment community.